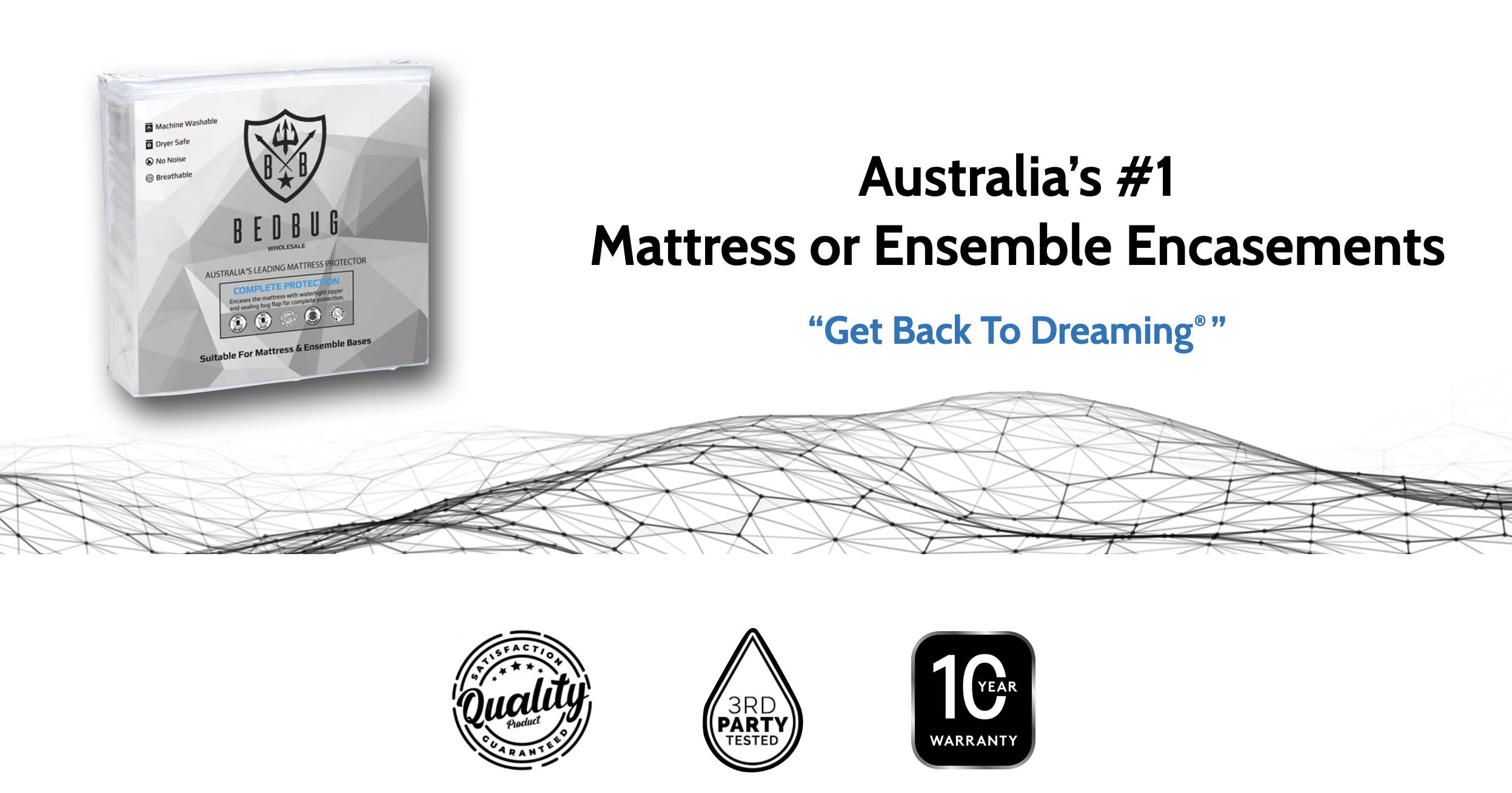 Bed Bug Mattress Protector
Allergy | Bed Bug | Dust Mite Mattress Encasement
For your peace of mind. This allergy and bed bug mattress encasement is third-party tested and recommended by more than 100 specialists here in Australia. The bed bug mattress protector has a pore size of less than two microns (2µm), meaning you can be confident that it stops dust mites, bed bugs, liquid spills, scabies, pet dander and other allergens from entering or escaping from your mattress or ensemble base.
The bed bug mattress cover and encasement also kills all dust mites, bed bugs and their eggs trapped inside this encasement by cutting off access to their food source and stopping allergens from becoming airborne and entering your respiratory system.
An additional feature of the encasement is its ability to protect your mattress from wear, tear and stains.
Description of Our Anti-Bed Bug Mattress Protector
Our commercial-quality mattress products are made from quality materials that are rigorously tested to create the best allergy bedding available in Australia.
Genuine Bed Bug covers use 90gsm polyester knitted jersey fabric (outer) with a 0.2mm TPU waterproof lining. The micro-porous TPU lining is essential for the product to be effective, resulting in a hypoallergenic surface that is soft, waterproof and cool.
Once installed, the cover is designed to be used in conjunction with a standard mattress protector that can be washed weekly to avoid unsealing your mattress.
This product comes with a 30-day quality guarantee and a 10-year product warranty.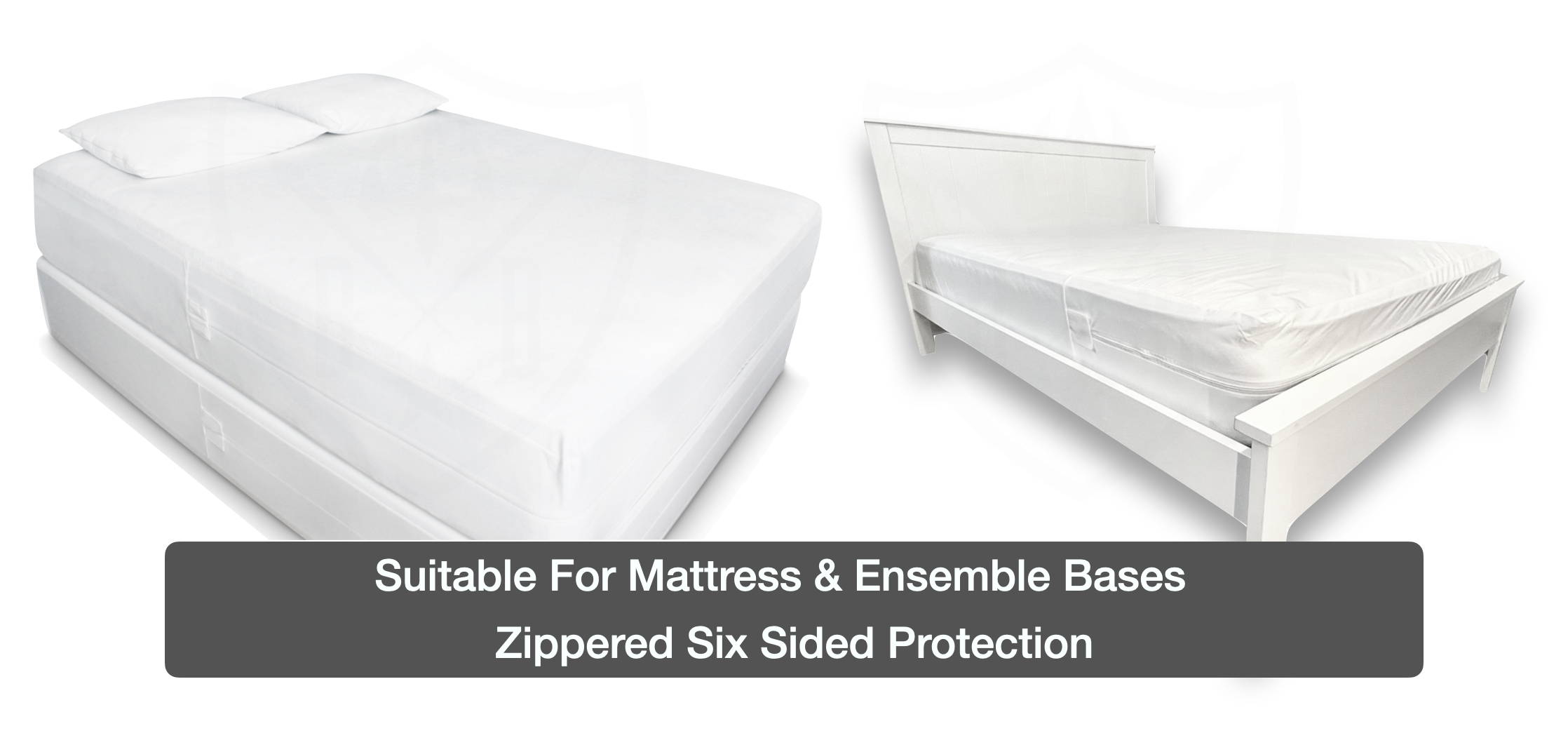 Sizing the Allergy Mattress Protector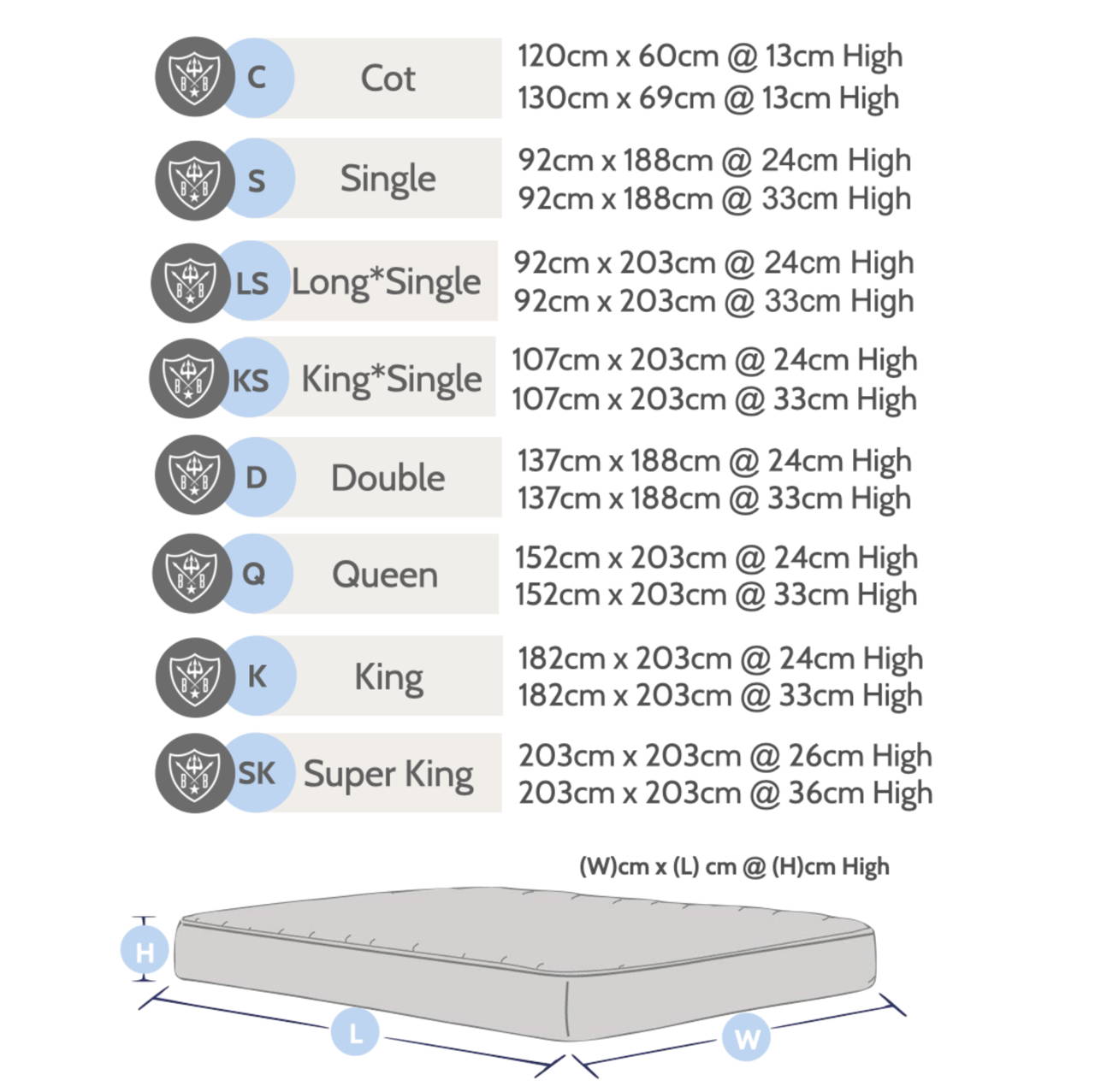 Please Note: The cover will stretch 4 to 5cm in any direction and fit all mattresses sold in Australia. If your mattress is between 24 to 27cm in height, then either size will fit – however, the 24cm size is suggested for the best fit.
Key Benefits of Our Allergy Mattress Cover
Tightly stitched binding seams.
Suitable for residential and commercial use.
Prevent dust mite bedding infestation.
Waterproof, suitable for incontinence.
Easy to install.
Protects new bedding.
Salvages infested bedding.
Use with an electric blanket.
Hypoallergenic.
Machine washable.
Bug flap/zipper.
Chemical and pesticide-free.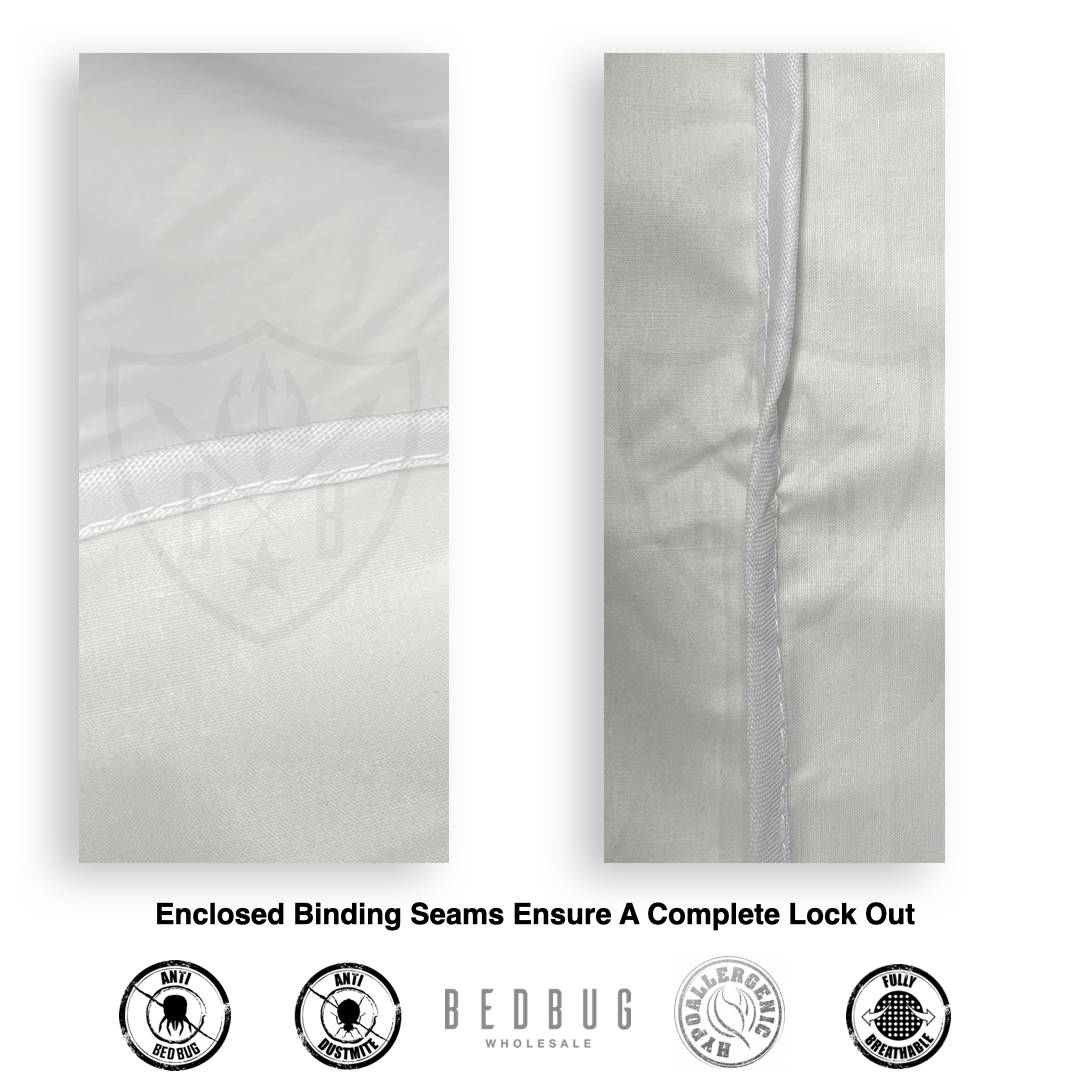 Care and Washing of Your Asthma Mattress Protector
Care and Washing Instructions

Wash or steam encasement once every 3 to 6 months when used in conjunction with a mattress protector that is washed weekly with your bed linen. Avoid exposure to bleach, excessive heat, natural oils and body oil. Do not iron. If you are unsure of your washer or dryer temperatures, hand washing and line drying are suggested.
Installation Instructions

Installation Instructions

Ensemble Base Or Box Spring Use
The mattress encasement is also suitable for use with an ensemble base or box spring:
Remove the legs or wheels.
Slide the encasement over the base and zip it up.
Use a sharp knife or scissors to make a small incision where the first leg hole is located.
Put the screw/bolt from the leg or wheel through the incision in the encasement and tighten it firmly, sealing the encasement to the base between the leg and the baseboard.
Repeat this process for each leg or wheel.
It is always best to follow the instructions carefully for the optimal functioning of your base, protector or cover.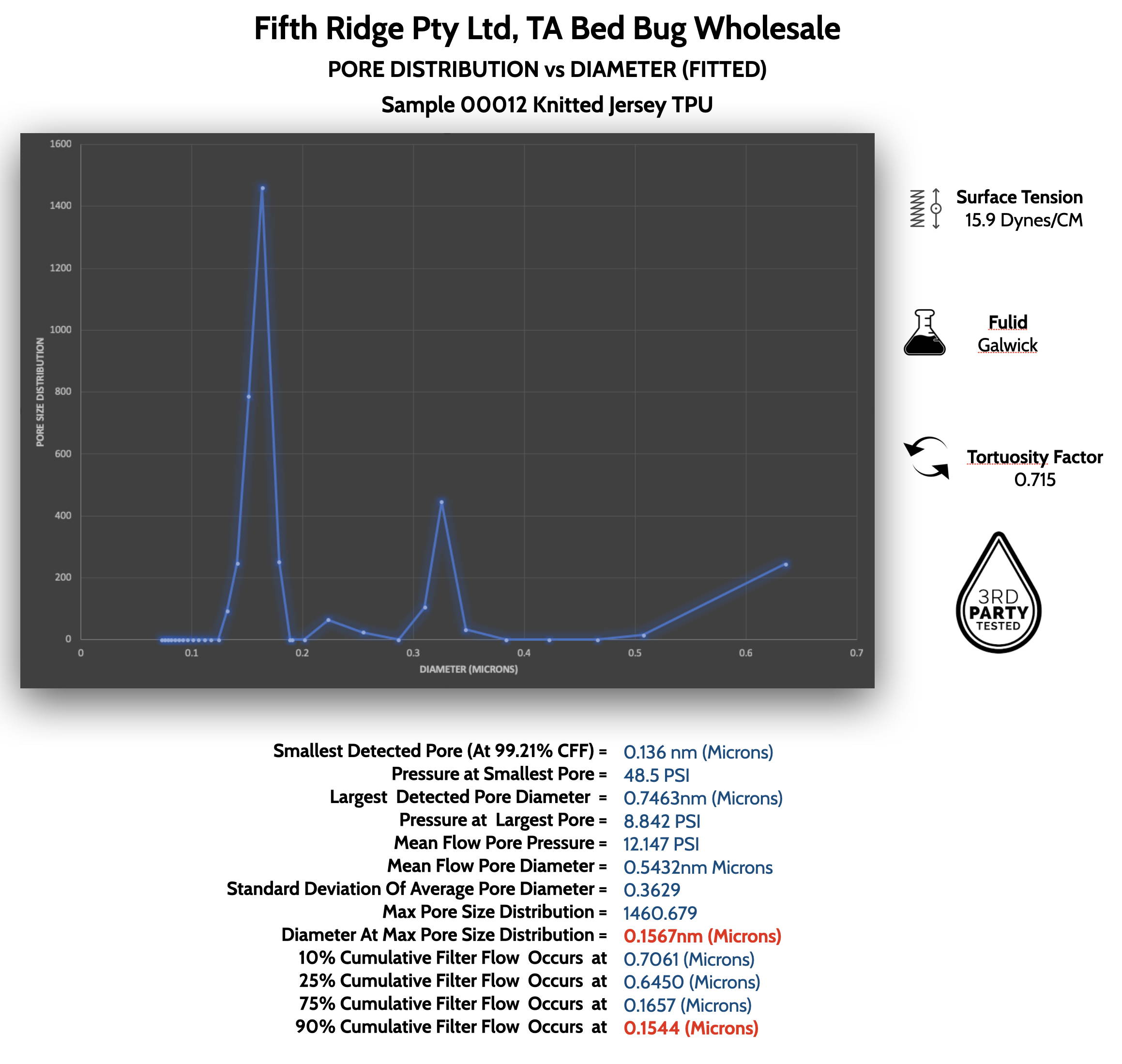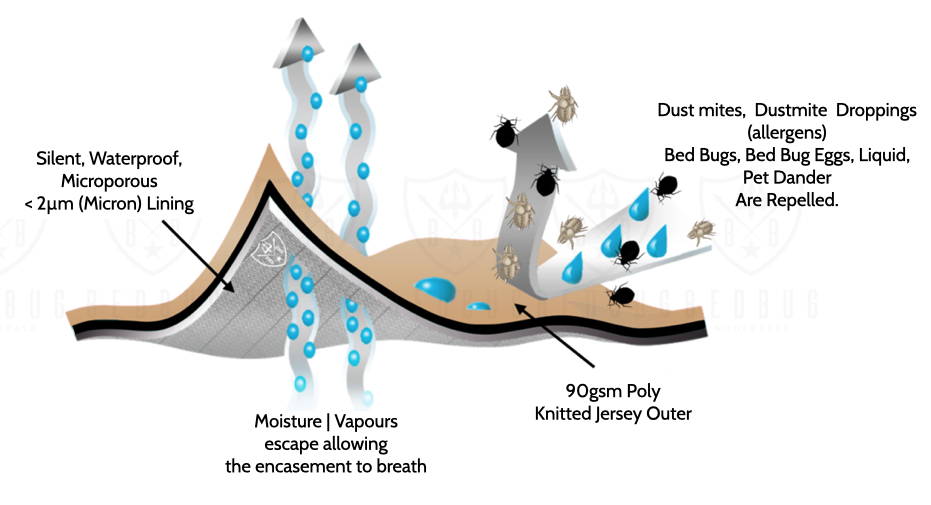 The TPU Barrier Filters out Mould Spores, Dust Mite Allergens, Pollen, Pet Dander, Dust Mites and Bed Bugs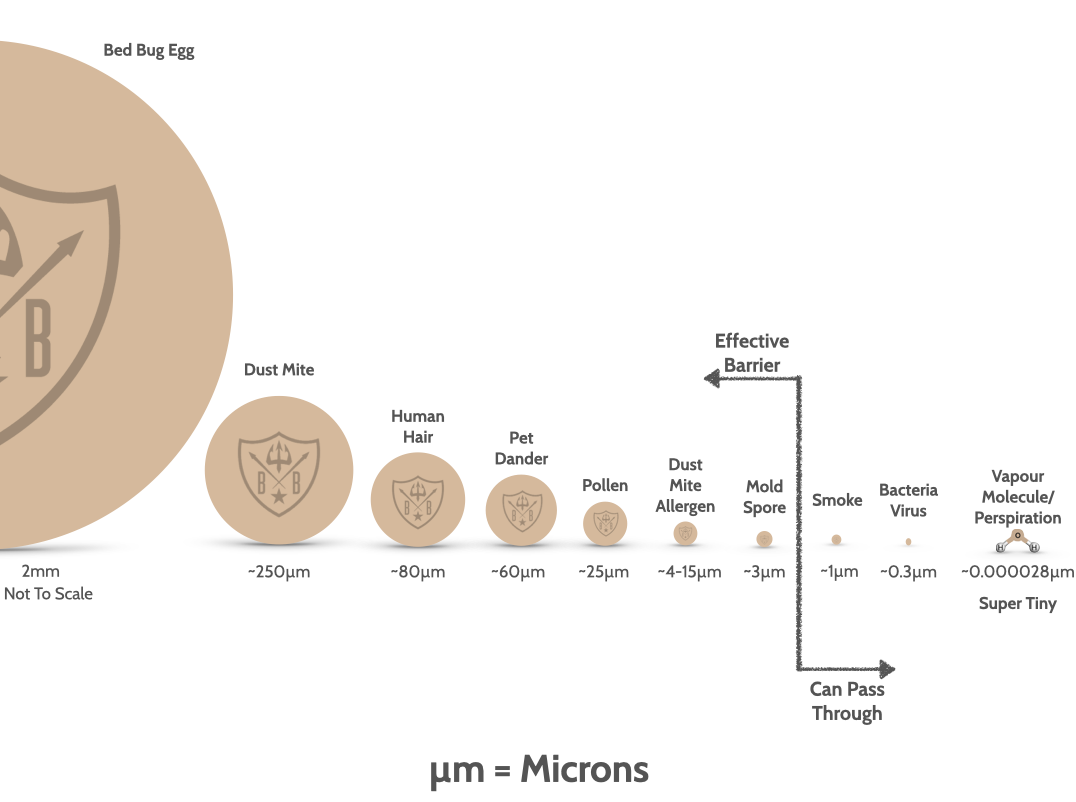 Buy a Mattress Encasement in Australia
We ship nationwide, with free shipping on orders over AU$50 and discreet product packaging for all consignments. Choose Bed Bug Wholesale for the best quality mattress encasement that keeps nasties out and promotes a peaceful night's sleep.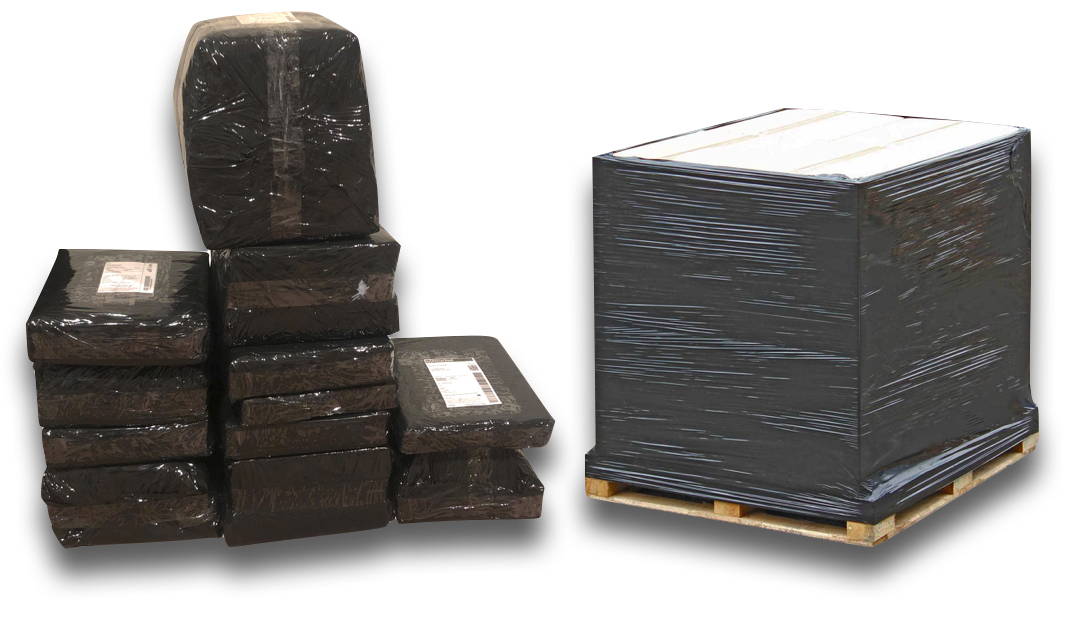 Discreet Product Packaging For All Consignments
Mattress Protector / Encasement Overview With Claire
Waterproof & Breathability Test